ABB LV Drives
ACS 150 | ACS 355 | ACS 550 | ACS 800 | ACS 850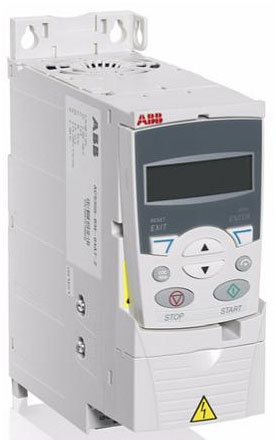 Introduction to ACS355



ABB machinery drives

The ABB machinery drives are designed to be fast drives to install, parameter-set and commission. Thus saving hours of engineering work. They are highly compact and cost effective. Equipped with cutting-edge intelligence and safety capability the drives are designed specifically to meet the production and performance needs of system integrators, original equipment manufacturers (OEMs) and panel builders, as well as the requirements of end users in a broad range of applications.



Applications

ABB machinery drives are designed to meet the requirements of an extensive range of machinery applications. The drives are ideal for food and beverage, material handling, lifting, textile, printing, rubber and plastics, and woodworking applications.

Highlights



Exceptionally compact drives and uniform design
Quick commissioning with application macros and panel assistants
Safe torque-off function (SIL3) as standard
Sensorless vector control for induction motors and permanent magnet motors up to 600 Hz
Built-in braking chopper
High protection class drive

A range of ABB machinery drives with IP66 protection is designed for applications exposed to dust, moisture and cleaning chemicals such as screws, mixers, pumps, fans and conveyors. Typical industries that benefit from the drive include food and beverage, textile, ceramics, pulp and paper, water and wastewater, printing and rubber and plastics. The heat sink's cooling fins are completely open from top to bottom, which allows easy washing to ensure no dirt adheres to the surfaces. Assistant control panel housed within a plastic window is designed to resist moist and dusty atmospheres. Furthermore, the cooling fan is located inside the drive, thereby eliminating the need for an external cooling fan and the subsequent maintenance of external moving parts.

The drive's hygienic design and use of materials meeting current hygiene standards, means that the drive traps no bacteria and can withstand frequent washing. The drive is certified by NSF.