ABB LV Drives
ACS 150 | ACS 355 | ACS 550 | ACS 800 | ACS 850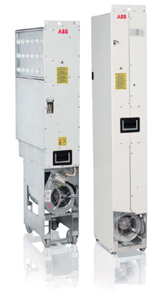 Introduction to ACS800



ABB industrial drives

ABB industrial drives are designed for industrial applications, and especially for applications in process industries such as the pulp and paper, metals, mining, cement, power, chemical, and oil and gas industries. ABB industrial drives are highly flexible AC drives that can be configured to meet the precise needs of these applications, and hence orderbased configuration is an integral part of the offering. These drives cover a wide range of powers and voltages, including voltages up to 690 V. ABB industrial drives come with a wide range of built-in options. A key feature of these drives is programmability, which makes adaptation to different applications easy.

Industrial design

ABB industrial drives are designed with current ratings to be used in industrial environments for applications requiring highoverloadability. The heart of the drive is DTC, direct torque control, that provides high performance and significant benefits: e.g. accurate static and dynamic speed and torque control, high starting torque and long motor cables. Built-in drive options make the installation work fast and easy. One of the most significant design criteria of ABB industrial drives has been the long lifetime. Wearing parts such as fans and capacitors have been selected accordingly. Together with the extensive protection features this results in excellent reliability in the demanding industrial market.

Drive modules

Drive modules are designed to be built into a customer's own cabinet. The modules typically have an IP00 or IP20 enclosure class. ABB's module package also includes cabinet assembly documentation.

Type designation

This is the unique reference number that clearly identifies your drive by construction, power rating voltage and selected options. Using the type designation you can specify your drives from the wide range of options available, customer specific options are added to the type designation using the corresponding + code.

ABB's module offering - common features

ABB industrial drive modules are meant for system integrators and/or machine builders who are making their own applications, which include the cabinet structure as well as the software features needed.

ACS800 modules include everything that is required for a complete drive, there is always a built-in harmonic filtering choke, for example. There is also a wide selection of builtin options such as EMC filtering and different I/O and communication options. In addition to these a selection of external accessories is also available. All the modules can be mounted side by side.

In addition to the modules being designed for cabinet assembly, cabinet assembly documentation is included. The documentation gives examples of different cabinet installations, examples of drawings, and hints on the selection of auxiliary equipment. The flexibility and programmability of the modules makes them very viable for various application needs in different areas of industry.

Functional safety

The ABB functional safety solution complies with the requirements of the European Union machinery directive 2006/42/EC. This directive is associated with standards such as IEC 62061 (Safety Integrity Level) and ISO 13849-1 (Performance Level), which require both a documented and proven safety performance and life cycle approach to safety. Safe torque-off is a certified solution offering SIL2 and PL d Cat.2) safety levels.

ABB drives can be provided, as an option, with the safe torque-off function. Safe torque-off can be used for the prevention of unexpected start-up and represents a costeffective and certified solution for basic safety. Other safety functions include safe stop 1 (SS1) and safely-limited speed (SLS), which can be used to achieve SIL2 or PL d (Cat.3) safety levels.